The Hey Zomi disc is making period care more comfortable and convenient than ever before. 
Made with no nasties, we use medical grade silicone that is soft and smooth, making inserting a breeze.
The disc has a unique handle, which makes removal easy.
No more changing menstrual products in the day, dealing with leaks and struggling to fit your life around your period.
Easy removal with patent protected unique handle.
100% medical grade silicone and won't affect your natural PH.
Mess free sex on your period while using the HZ disc.
Leave in all day without emptying, for up to 8 hours.
No suction (different to menstrual cups).
Reusable. One disc for your whole period, every period.
Lasts more than 5 years.
Australian designed, made and owned.
Australian TGA (Therapeutic Goods Act) compliant.
One size fits most as the disc is round, and made to mold to the shape of your body.
Check out our 'How to Use' page to find out more about the HZ menstrual disc and all our tips and tricks in our FAQs.
DIMENSIONS

The Hey Zomi Disc is round in shape and is 65mm in diameter. It is one size fits most and has a large
capacity of 52ml.

Its soft, smooth and flexible design means it will easily slide into place and mold to your body for a personal and comfortable fit.
HOW TO CLEAN

Sterilise your disc before each period by boiling in water for 3 minutes.

You do not need to clean your disc during your period, simply remove, rinse clean and reinsert.

We recommend boiling your disc before your next period, so that it is clean and ready to go.

Store your disc in your little cotton Hey Zomi bag or box inbetween your periods.
SAFETY

100% medical grade silicone
TGA approved
Made in Australia
Highest quality guaranteed.

IMPORTANT- This is not a contraceptive device! The Hey Zomi disc will only keep menstrual fluid in. It does not protect you from STIs or pregnancy.
100% money back guarantee
We are happy to refund your purchase if you have found that the Hey Zomi disc isn't the right fit or feel for your period.
We are here to help you learn how to use your disc with your body and flow. There is never TMI for us.
Of course, we can't resell any menstrual discs that have been returned to us.
Best thing ever
Best thing I have bought. Can not feel it in which I absolutely love. I work 10 hour days in a work environment that is full on all day, and I couldn't feel it at all. I love how I can feel if it's leaking and I can empty it in the bathroom quickly and easily. I have tried the cup and found it uncomfortable but the zomi is so comfortable I forget it's there.
From the cup to Hey Zomi!
I had been using a menstrual cup for 10 years and sadly, it started leaking after giving birth no matter what size I tried. I gave Hey Zomi a try and it's by far the best, most comfortable and easy to use menstrual thingy I've had. I'm so happy I fell for it. It's LOVE, pure LOVE what I feel… and it's an Aussie product, so even better. It took me around three days (and a YouTube tutorial) to insert it perfectly, but once I got the hang of it it was really easy. ;)
Best I've ever tried!!!
This is the absolute best product I've ever used to that time of the month! I have a high cervix and got major cramps with the cups. I've had issues with other discs but this one is pure perfection. Will never go elsewhere when I need a newbie ! Thankyou! You've changed my life!
The best thing!
I love this product so much. It was easy to use and the education on how to use was great so I felt confident going into it. So glad I bought it. 🙂
Don't wait to buy it
After going from period cups, to the more comfortable period underwear - I now have the disc as an option. SOOOOOO much more comfortable to use than a cup, honestly can't compare. I feel just as at ease, even more so with it in comparison to a cup. Haven't had sex using it yet but it's good to know it's there as an option. Don't wait to buy it.
Frequently asked questions
Can the disc get stuck or lost inside?

There is absolutely no chance it will get lost. We get it! Inserting something inside your vagina with no exit rope is not something we have been programmed to do. But we promise, it won't and it can't get lost! If you have a high cervix and your disc sits higher than your finger can reach, simply use your pelvic floor to bear down and it will naturally push the disc towards your finger.
How often should I replace my Hey Zomi disc?

Your disc is made out of 100% medical grade silicone- one of the longest lasting and durable materials. It will last you many years if cared for properly. If you notice any tears or the texture of the silicone changes, it is definitely time for an upgrade. But please do let us know.
How do I choose what colour? Black or White?

It is personal preference. We actually love having one of each!
The black is a great option if you don't want discoloration or staining over time. It masks the colour of your menstrual fluid if blood makes you a little squimish.

White is fantastic if you love seeing all the details. We think it's great to read our bodies and connect in with how our health is going by seeing the colour and texture of our period.
I can feel my disc when wearing it?

If you can feel the disc inside you, chances are it's not inserted correctly. Just insert your finger until you feel the rim of the disc and push upwards to make sure it is tucked up behind your pubic bone.

If you have a low cervix, you may find you have to pull up with your pelvic floor muscles to get that good tucked feeling - imagine you are trying to draw everything upwards inside your vagina.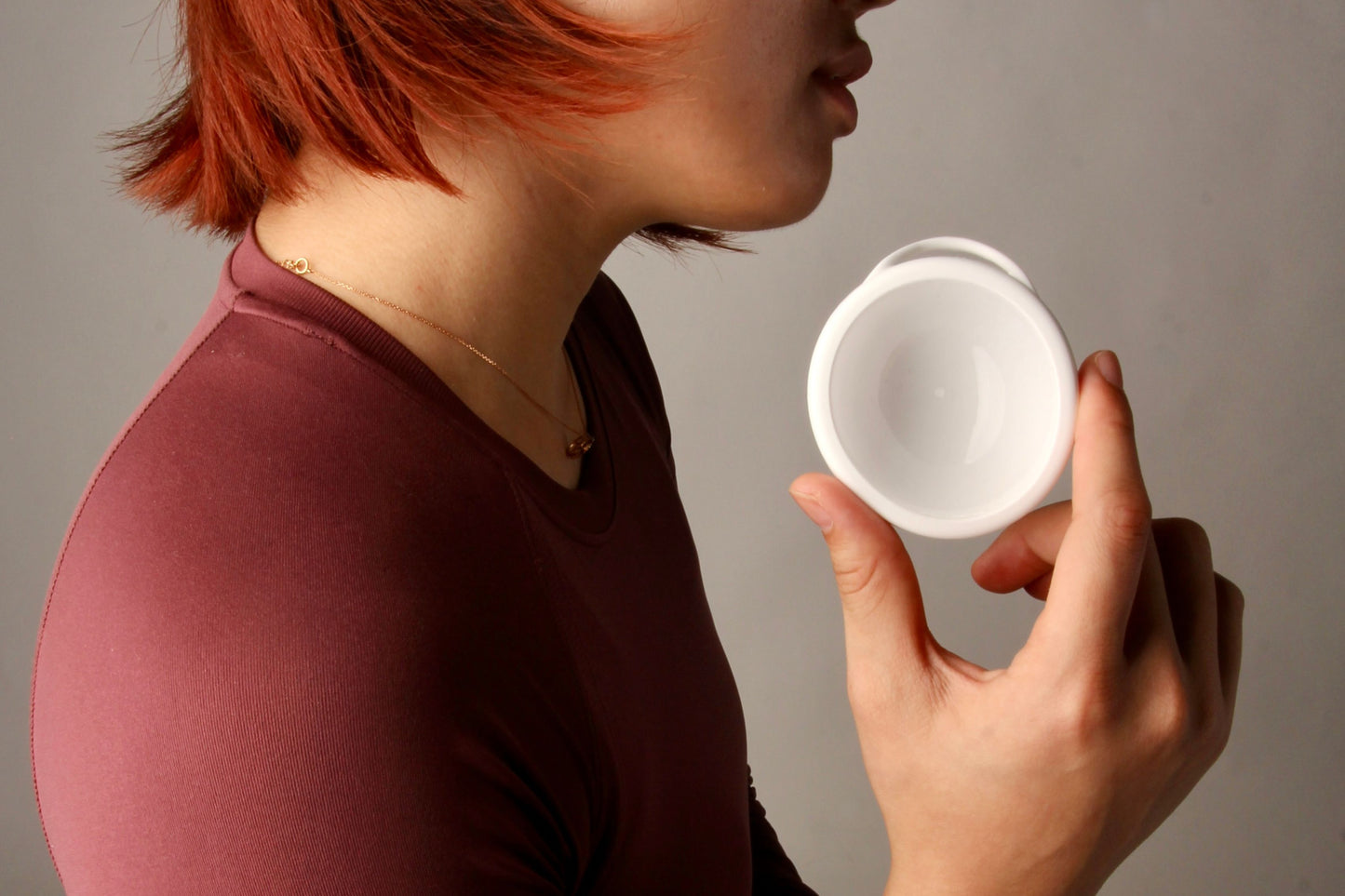 Tips & tricks
Short on time and big on questions?

See all our tips and tricks to make using your disc a breeze.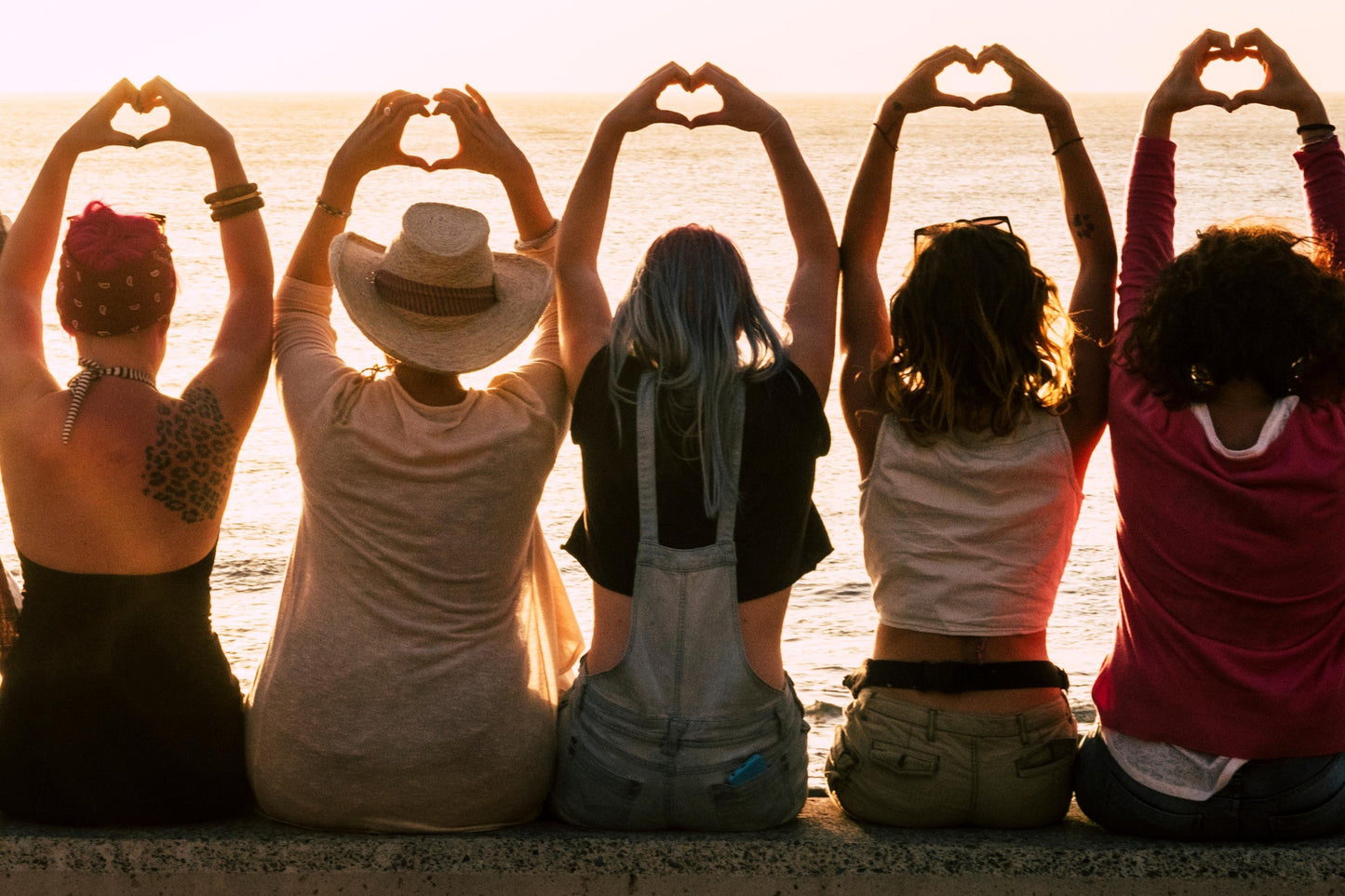 making an impact
Your purchase supports fighting against period poverty in Australia.

5% of each Hey Zomi disc purchased is given to 'Share the Dignity', who support those who are unable to access basic period care.

Together, we can help everyone with a period get the care that they need.